Super Blue Stuff - Pain Relieving Cream - 4.4-oz. jar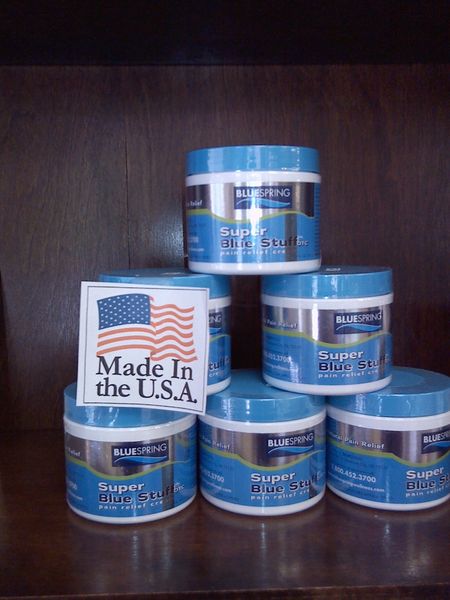 Got Pain?
Back Hurt?
Arthritis?
Sore Muscles?
You'll Love our Super Blue Stuff!
It is a Pain Relief Cream with Emu Oil.
Works in as quickly as 5 minutes!
You only need a small amount because of the powerful concentration of ingredients.
Safe to use over and over with no negative side effects.
It is uniquely formulated from 23 natural ingredients, 11 of which are therapeutic herbs. For this reason, it is safer to use than aspirin, pharmaceuticals and drug store pain pills.

Made in USA!
Testimonial.. We at the Treasure Shop have personally tried this and it works. My husband is a mechanic who has suffered from back pain for a few years. He has tried chiropractor visits and other over the counter relief. but it still hurt. While at the pharmacy looking for something new to try for the pain, he bumped into a friend. This friend suggested he stop buy his house and try some of the "Super Blue Stuff". He gave my husband a jar with a little left. To my husband's surprise - it worked! He was so impressed, he took it to work the next day and let several of his co-workers try it & it eased their pain too! A couple family members with various aches & pains tried it too... and it worked! Everyone that tried it, wanted to order it. That's why The Treasure Shop started caring it! We hope it relieves your pain too:)