St. Joseph Statue - Home Seller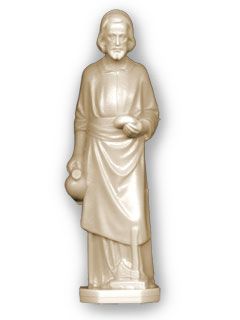 St Joseph Home Seller Statue
Plastic 4"
Over the years, the tradition arose of St. Joseph having a special power in real estate transactions. European nuns buried a medal with his likeness on property they hoped to a acquire for convents. Gradually the medals were replaced with statues and the focus changed from buying to selling.

The statue is buried upside down in the front yard with the feet pointing to heaven. It may face towards the home (or towards the street if you want your neighbor's home to sell!) The location of the statue can vary: by the "For Sale" sign, in a flower pot (popular for condo owners), etc.. As long as you can find it once the home has sold. After the home has sold, the statue should be removed from the ground and given a place of honor in your new home.

Many worry that burying St Joseph, Mary's Husband and Foster-Father to Jesus, is superstition or even irreverent. Not as long as it is done with faith and the desire to do the right thing. When St. Joesph's life was turned upside down, he still did the right thing...even if he didn't understand why. Several site sources mentioned that the custom may have been started when St. Teresa of Avila reportedly buried medals of St. Joseph, her patron saint, on some property she wanted but could not afford. Remember God works in mysterious ways, and can use anything to bring us closer to Him... even a small plastic statue buried upside down in a yard.