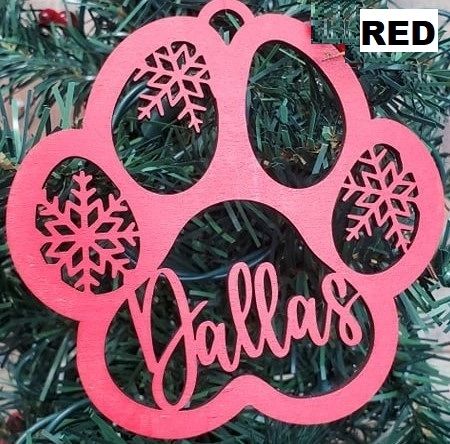 Personalized Paw Ornament FUNDRAISER
4 1/2" Wooden Ornament (Note: Made of Wood: may have differences in grain or knots) 
$11.50 each 
Available in: Dog or Cat Paw
Color Choice: Natural Wood, Medium Stain, Red, or Green
Made in USA by Cruver's Workshop, Lehighton, PA
Order Deadline:  10/31/21
Pick-up / Delivery: starting early December 2021
Orders may be shipped to you (shipping $9.50  to USA address)  OR you may make an appointment to pick up at the dog or cat shelter.
Dog ornaments benefit: Carbon County Animal Shelter Spay/ Neuter / Emergency Fund
Cat Ornaments benefit: Carbon County Friends of Animals
PS... Thanks to Cruver's & Treasure Shop for waiving their profits so all proceeds benefit our local shelters. Thanks to The Treasure Shop for donating their webspace for this fundraiser.
Please be sure to spell your pet's name correctly! 
Please order one ornament at a time so you can type name.
All orders to be shipped will be sent to your one address.  If you would like items sent as a gift to different recipients, please place separate orders. 
All sales final... no returns or exchanges.
If you do not want to pay online, please mail order & check payable to:
The Treasure Shop
44 Broadway
Jim Thorpe, PA 18229