Ring - Mo Anam Cara - Gaelic My Soul Mate - Gents - Silver - Boru #WED184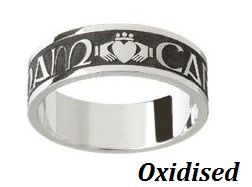 7.3mm - Sterling Silver
Available in either: Florentine (polished silver letters and background) or Oxidized (Polished solver letters on "blackened" background
Mo Anam Cara, Gaelic for My Soul Mate. The ring consists of the Gaelic Script with the Claddagh symbol between each word.
Made by Boru Jewelers, Ireland
Available in full and half sizes 9 - 13 1/2
Also. available in Silver & 10K, 10K Yellow or White, 14K Yellow or White, please contact us for a quote.

If the size you need is not in stock, please allow 3-4 weeks for us to get it from Ireland.
As of 11/22/16, in stock: size 10 - florentine
* The largest size is a 14 1/2, but for a custom order Boru can try to stretch to a size 15, but not returnable.
Ring sizes 13 to 15 must be paid for in advance, and cannot be returned or refunded since it is not a stock size.*