Ring - Mo Anam Cara - Gaelic My Soul Mate - Gents - Silver - Boru #WED184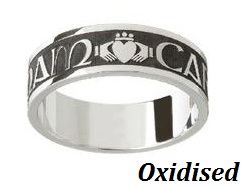 7.3mm - Sterling Silver
Available in either:                                                                                                                                                                                  
Florentine (polished silver letters and background) or Oxidized (Polished solver letters on "blackened" background
Mo Anam Cara, Gaelic for My Soul Mate.  The ring consists of the Gaelic Script with the Claddagh symbol between each word. 
Made by Boru Jewelers, Ireland
Available in full and half sizes 9 - 13 1/2
Also. available in Silver & 10K, 10K Yellow or White, 14K Yellow or White, please contact us for a quote.

If the size you need is not in stock, please allow 3-4 weeks for us to get it from Ireland.
* The largest size standard size is is a 13 1/2
Custom orders can be placed for a 14. 
Boru can make a 14 1/2 and will try to stretch to a size 15, please ask for a quote. 
Ring sizes 13 to 15 must be paid for in advance, and cannot be returned or refunded since it is not a size we stock.* 
CARE INSTRUCTIONS:  
While wearing your new ring DO NOT: shower, swim, excessive hand wash, wash dishes, use hand sanitizer or creams.  Clean with soft cloth. Do NOT use silver polish or dip in silver cleaner.
Florentine Finish, background is sandblasted. Oxidised finish is put on the ring. Finishes will change over time however the only way the finish will come away is by something the wearer is doing. As the ring is worn on the hand it means everything you do with your hands will affect the ring.  Your new car will not look the same in a week & neither will your jewelry. ANYTHING can affect it – hence why care should be taken with it. NO RETURNS or EXCHANGES for changes in the finish or lost stones
Fine jewelry is not impervious to normal wear, activities or trauma. This is particularly true for rings since hands are regularly subjected to considerable abuse. NO warranty for damage due to normal wear, product loss, loss of stones or theft. Prongs holding stones should be checked on a regular basis.