Wedding Band - Claddagh Celtic Ring - Size 7 - Fado #R144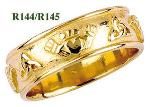 Claddagh with Trinity Knot Wedding Ring.
As of 10/1/21 - one in stock = 14ct Yellow Gold - Size 7
Made by Fado Jewelers, Ireland
This item is available in other sizes by order. No re-orders at clearance price. Please ask for a current quote. Delivery from Ireland takes 3-4 weeks.
Note: This is item is on sale and there is only one in stock. All Sales Final