Ring Celtic Warrior Boru 6mm #WED33c Sterling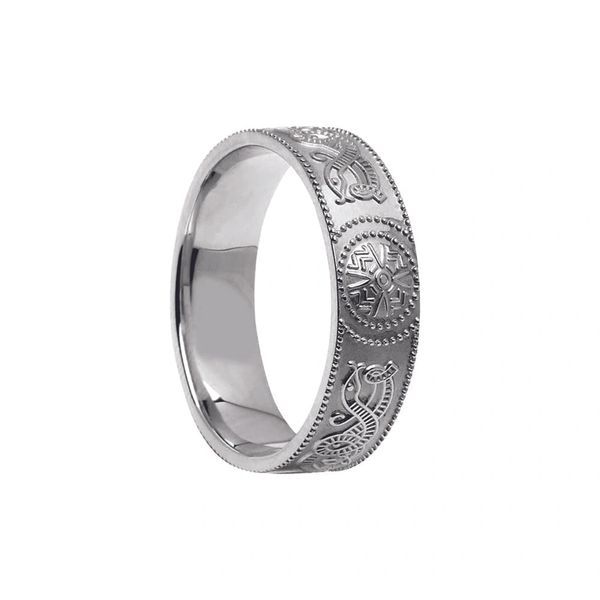 6mm Warrior Shield Ring  - Court Shaped  - Sizes 7 - 13 1/2
Weight: 6.1gms approx.
Width: 6mm approx.
Available in Finishes:

An Oxidised Finish - the ring background is given a dark grey or black finish – Only available on Sterling Silver
A Polished Finish - the whole ring is fully polished which gives a shiny look all over
A Florentine Finish - the background is sandblasted to give a light grey or white look – Raised areas are Polished
Made by Boru Jewelers, Ireland
The filigree band on the Ardagh Chalice, dating back to the 8th century featuring shield decorations, forms the basis of the intricate designs featured on each piece of our Celtic Warrior Rings. 
This ring is also available in gold. Please contact us for a quote.
If the size you need is not in stock, please allow 3-4 weeks for us to get it from Ireland.
CARE INSTRUCTIONS:  
While wearing your new ring DO NOT: shower, swim, excessive hand wash, wash dishes, use hand sanitizer or creams.  Clean with soft cloth. Do NOT use silver polish or dip in silver cleaner.
Florentine Finish, background is sandblasted. Oxidised finsh is put on the ring. Finishes will change over time however the only way the finish will come away is by something the wearer is doing. As the ring is worn on the hand it means everything you do with your hands will affect the ring.  Your new car will not look the same in a week & neither will your jewelry. ANYTHING can affect it – hence why care should be taken with it. NO RETURNS or EXCHANGES for changes in the finish or lost stones
Fine jewelry is not impervious to normal wear, activities or trauma. This is particularly true for rings since hands are regularly subjected to considerable abuse. NO warranty for damage due to normal wear, product loss, loss of stones or theft. Prongs holding stones should be checked on a regular basis.