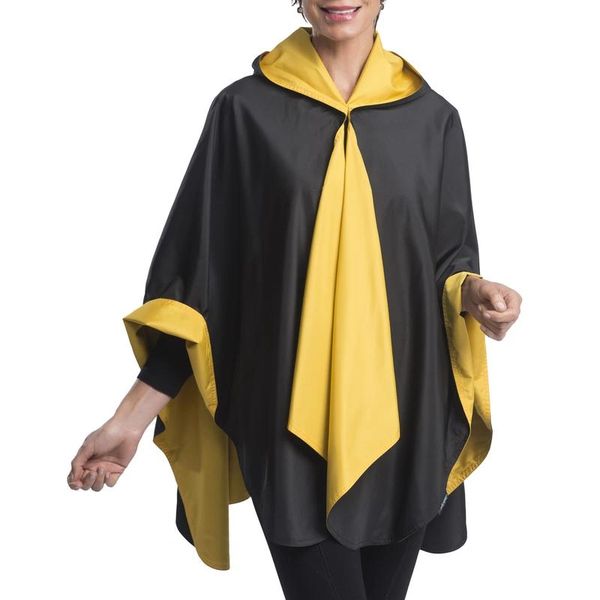 SpiritCaper is the reversible, packable, rainproof, windproof, lightweight women's rain poncho with a luxurious, soft supple feel.
The ultra-versatile SpiritCaper can be worn all year long. Rain or Shine!
* Hidden double-sided magnets let you make a "sleeve" - No more billowing in windy weather.
* Hooded design of rain cape keeps you dry in wet weather. Rain rolls right off
* Folds up into included 8" x 10" travel pouch with snap-on strap for your tote, car, briefcase or travel bag
* Generous hood protects from wind and rain, yet much less bulky than a raincoat or jacket.
* One size fits most; two shell buttons for adjustable fit. Reversible for two fashion choices - Rain or Shine!
* Provides complete rain coverage - all the way to the wrist! 23" shoulder to wrist. 30" neckline to back hem, 55" wide.
* 100% polyester. Machine wash; hang to dry. Weight: 9 oz
11/21/18 - one each color in stock:
Black & Yellow
Black & Crimson Houndstooth
Berry & Swirl Dots
Blue Stripe & Flowers
Poppy & Sand
Spice & Coco Medallion