Necklace - Celtic Cross with Trinity and Green Crystal - Gold Plated - Solvar #S45026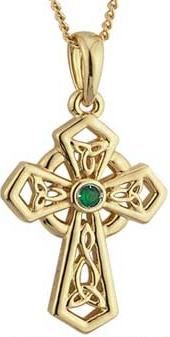 Celtic Cross with Green Crystal in Center - accented with Trinity Knots - measures 5/8 wide x 1" long.
18ct Gold Plated - 18" Chain
Made by Solvar, Ireland.
If out-of-stock, please allow 3 weeks for us to receive from Ireland. Thank you!
4/30/18 - one left in stock