Letters by McHarp Made in USA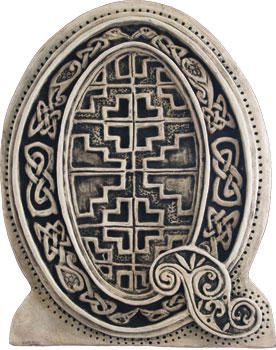 Since we cannot stock all the letters available, this item will be special ordered for you at the time of purchase. Please allow 3 weeks for us to receive the letter from the manufacturer in Texas. All letters available, but we haven't had a chance to post them all here.  We would be happy to ad the letter you were considering - just send us an email trsure@ptd.net. Thank you!
The initial letters presented here were taken from or inspired by the ancient manuscripts; The Book of Kells and the Lindisfarne Gospels. These books were created by hand in the seventh and eighth centuries. These two are superb examples of the art and craft of that time.
The books, and others similar to them, were made to be alter books and for ceremonial use. They were great treasures of the monasteries they were created for. Page after page is full of brilliant color, clever imagination, and even subtle humor.
The initials were used to start a paragraph or to draw attention to an important passage in the text. Even more ambitious in design are the large, intricately executed letters that are found on introductory pages to each gospel or important sections of the book.
The initials are full of surprises and symbols; sometimes illustrating what is about to be disclosed in the text that follows. There seemed to be no standard for upper and lower case letters as we know them today. No capital letters were used in the text. Beginnings were usually noted with a spot of color. There are animals galore – dogs, birds, lions – all in a tangle of intricate knotwork. Nearly all are surrounded by rows of tiny dots to give more emphasis and color. The highly decorated initial is a unique entity, complete within itself. The symbolisms incorporated within gives the design strength and meaning, similar to that of a coat of arms.
Average Size 9 1/2" tall.
Made in USA by McHarp - Texas