DVD - The Irish, Two Nations - One Heart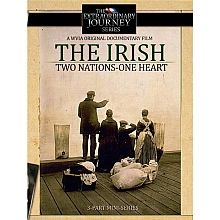 Sorry... no longer available:(
The Irish: Two Nations – One Heart is a sweeping documentary series that details and preserves the incredible ethnic, social and political cultural heritage unique to the country. This anthropological and ethnographical record of the struggles, triumphs and contributions made by Irish immigrants is a remarkable, rich story representing a proud and well-deserved place in the history of America.
The Industrial Revolution in 19th century America produced social and political tumult that forever changed the world. Nowhere would those conflicts resonate more dramatically than in the northeastern part of the country, where immense anthracite coal reserves and rich woodlands fueled America's ascent as the world's preeminent superpower. The tide of Irish immigrants that washed ashore clinging to despair and anguish over their own embattled Ireland found no safe harbor. Instead, these people would become girdled by some of the most dramatic social conflicts in American history.
The Irish: Two Nations – One Heart explores how Irish immigrants overcame great obstacles to help build state and nation. Travel back to Donegal and Mayo, the counties in Ireland where the great famine of the 1840s was exacerbated by English landlords, resulting in the deaths of one million men, women and children. The heartbreaking departure destroyed families, many of whom would never see their loved ones or homeland again. Ahead lay a perilous journey aboard disease-ridden coffin ships, bound for an uncertain future in a new country that held as much suffering as it did promise. Here was a pivotal moment in the history of both Ireland and the United States.
138 minutes