Dog Ball Toy Muttmellow MADE IN USA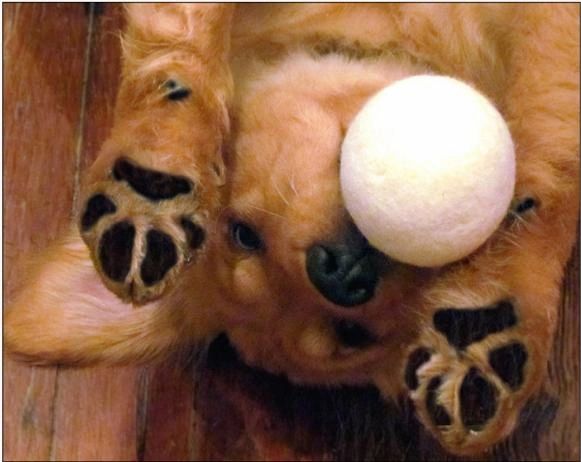 Muttmellows™ - all natural, undyed, 100% solid wool doggie play ball
Made in USA by Ten Good Sheep They made the first one for our own dog.   

Soft, Washable, Eco Friendly, 100% Wool. 

About 10.5" around.  (Baseballs are 9.25".)
Repeatedly tested on doggies with a wide variety of chewing techniques...
Muttmellows pass the sturdy test and dogs LOVE them!

Washable! Your dog's favorite toy is washable.  Put Muttmellow in a lingerie bag and drop it in a WATER ONLY washer load.  You don't want your pup to blow bubbles, so leave the soap out of the wash. Allow the Muttmellow to spin dry in the washer at the end of the cycle, reshape and then air dry for a few days.  
The Treasure Shops greeter "Sam" is our rescue who loves to chew.  One of her favorite things to do is steal a stuffed animal or pillow out of one of our son's rooms.  She chews a hole if we don't catch her in time and pulls put all the stuffing.  She has had her Muttmellow for about a month now.  It is one of her favorite toys.  It is soft enough to play catch inside, and she hasn't been able to destroy it no matter how hard she tries:)
10% from our profits from the sale of the mutmellow will be donated to a local animal shelter!