Comfort Cross - Perfect for Bereavement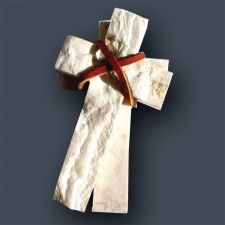 Sorry... company no longer in business:(
So sorry for your loss:(
4" Cross  - Made of Jerusalem Stone - Crafted in Florida
A chiseled cross, sectioned into two crosses, tied with a length of leather.
One piece to place in the casket of the deceased and the other to keep as a remembrance of one's loved one.

Can also be used if two people will be a distance apart, like a soldier and his family.

"This Jerusalem Stone cross has been cut into two pieces: one as a gift to you as a symbol of the love and faith that connects us. The other I will keep, just as I  will always keep you close to my heart... Safe forever in God's care. May this cross that was quarried in the very hills of Jerusalem where Jesus walked bring you comfort and may your faith in our loving Father bring you peace."