Celtic Cross - Quin Harp Cross - McHarp - Made in USA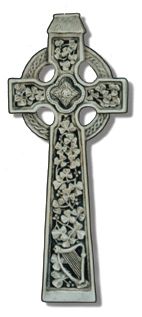 Quin Harp Cross
Quin Friary, Co. Clare, Ireland
Made in USA
Note - item is a off white color

approximately 11 feet high. Quin was founded as a Franciscan Friary in 1433. 
It was built in the ruins of a much older anglo-Norman castle. In 1541, King 
The Harp Cross is located among the ruins of the Quin Friary and is Henry VII 
dissolved the friary in his campaign to control the wealth and power of the 
church. Carved into the face of the cross is an Irish harp and scores of 
shamrocks. Both have become famous symbols of Ireland. The harp figures 
into many of the old Irish myths. The shamrock is from a legend about St. 
Patrick that says he used a shamrock with its three leaves to explain the 
Trinity, the triple nature of God.
14 1/4" x 6"  

11/6/17 - one left in stock