Birth Stone - made of stone from Jerusalem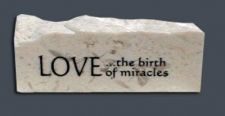 This 2.25" wide stone is the perfect gift for a pregnant mother.

Poem: I held this stone tightly on the day you were born.
It gave me such comfort from dusk through the morn.
Awaiting the moment to see your sweet face,
I prayed God would bless you with goodness and grace.
Reassuring you softly He'd be by your side,
I promised forever to be love you and guide.
As I held this stone tightly not as me, but as we,
I felt loving comfort for both you and for me.
May this stone from a land that is tied to our hearts,
Remind you of blessings that were there from the start.
A Certificate of Authenticity explains, each piece is skillfully handcrafted in Melbourne, Florida (made in the USA) from authentic Jerusalem Stone—quarried in the hills of Jerusalem.